Our management and staff have a substantial background and wealth of experience in construction and industry and include qualifications in Civil and Structural Engineering, Building Studies, and WHS.
We are a licensed contractor with operational mobilisation in all states and territories, offshore and overseas. Our vast range of expertise enables us to adapt our unique solutions to your unique situations with a professional, personal approach and with high regard for your goals and for the safety of your workplace. Together we can control your risks and ensure the best possible outcome to your needs.
Established teams in NSW & Queensland since 2017
We have never wanted to be the biggest, but do strive to be the best. So we have expanded vigilantly, keeping our carefully selected team tight, only employing the most skilled people. However as our reputation spread across the NSW border we began seeing demand from the Gold Coast, Brisbane and Noosa for a dedicated Queensland team. We are proud to now be able to offer our services to all states and territories, as well as offshore and overseas, from our bases in Sydney and the Gold Coast.
Developing unique safety netting systems since 2008
Problem-solvers at heart, we saw that safety netting could provide huge benefits to our construction and infrastructure clients. Already widely used in Europe and the UK, we became Australia's first fully qualified and compliant safety netting installation service. Innovating and developing systems for overhead protection from falling materials; encapsulation for whole buildings to prevent materials falling out; fall protection, where workers can literally go straight back to work without a scratch, and more.
Specialising in height safety services since 2002
Our pioneering work using safety systems to work at height soon led clients to ask us to design, install and certify height safety and roof access systems for their own personnel and trades people to use. This area of our business has expanded to see us becoming the go-to experts for working on and accessing buildings and structures safely at height.
Providing rope access repairs and maintenance since 1999
Realising the huge costs and limitations of traditional access techniques like scaffolding, we saw an opportunity to provide an agile repairs and maintenance alternative. Using industrial rope access techniques we found we could reach and work in high or difficult-to-access areas, safely and cost-effectively. What started as concrete repairs and facade repainting for strata management companies in Sydney, soon expanded to complex work on a range of large buildings across NSW.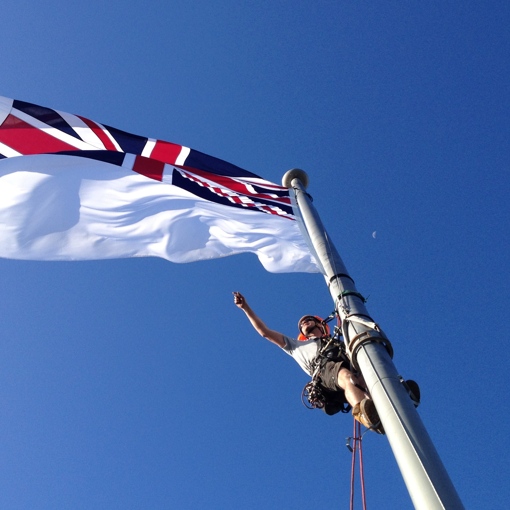 Got the experience and skills to be part our expert team?
Get in touch, we'd like to hear from you.
Contact us